mackerel in fennel-seed oatmeal crust recipe
Written by:

Sarah Raven

Last updated: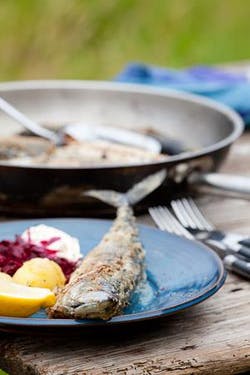 Fresh mackerel, with their eyes bright and sparkly, are an emblem of summer. Cook them straight from the sea, rolled in fennel-flavoured oatmeal and cooked on a fire on the beach – there's no better way to eat them.
serves 6
6 very fresh medium-size mackerel, cleaned and heads left on
4-5 tablespoons medium-grade oatmeal
1 tablespoon plain flour
2 tablespoon fennel seeds
Olive oil, for frying
for the beetroot horseradish
4 medium-sized beetroot (about 600g)
Grated horseradish, to taste (it's difficult to give an exact quantity as fresh horseradish strength varies hugely)
A little lemon juice and grated zest
1 tablespoon balsamic vinegar
2 tablespoons Greek yogurt
2 tablespoons double cream or crème fraîche
1 teaspoons mustard powder
For the mackerel, combine the oatmeal, flour, fennel seeds and lots of salt and pepper, then spread out the mixture on a large plate.
Dampen the skin of the mackerel and roll them in the oatmeal mixture. Heat plenty of olive oil in a couple of frying-pans and cook the mackerel for five to seven minutes on each side (depending on the fish size).
The beetroot horseradish is excellent with almost any fish and very good with rare roast beef. If you can't find fresh horseradish root, use two tablespoons of good quality horseradish sauce (or to taste).
Cook the beetroot in boiling salted water until soft (about 30–40 minutes, depending on size). Drain and cool a little, then peel. Grate on the coarse blade of a grater. Peel and grate the horseradish. If you want it very strong, grate it just before you eat. It has highly volatile essential oils, so its strength soon fades. It also oxidises quickly, so mix it with the lemon juice immediately to prevent it discolouring. Add the vinegar, yogurt and enough cream to make a creamy consistency.
Add the mustard powder and some salt and pepper. Combine the horseradish mixture with the grated beetroot. Sprinkle with the lemon zest. Serve the mackerel with a dollop of beetroot horseradish, some new potatoes and a green salad.
This recipe featured on p.195 of Sarah Raven's Food for Friends and Family