Jane's chanterelles recipe
Written by:

Sarah Raven

Last updated: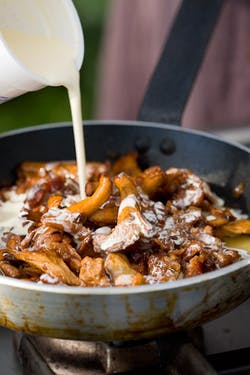 My twin sister, Jane, is a great fungi enthusiast and a fantastic cook. She lives in Scotland, where there are lots of chanterelles. If you're lucky enough to find them, this wine-rich sauce with garlic is the best way to eat them. It's good with rice – brown gives an extra crunch – and any pasta. This recipe also works well with a mix of mushrooms – ceps and hedgehogs as well as chanterelles.
serves 6
1 medium-sized onion (preferably red), finely chopped
1 tbsp olive oil
100g smoked streaky bacon or pancetta, cut into matchsticks
1 large garlic clove, finely chopped
750g chanterelles (and some cep and hedgehog fungus, if possible)
1 glass of white wine
A little cream (optional)
Handful of chopped parsley
Salt and black pepper (to taste)
75g grated Parmesan cheese
Fry the onion in the olive oil gently for 10 minutes until just soft. Add the bacon or pancetta and cook for another 5 minutes until browned. Add the garlic and cook for 1 minute. Add the large mushrooms, breaking up the large ones so that they cook consistently.
Cook for about 5 minutes – after a couple of minutes they will exude water, which you want to evaporate (a wide pan helps with this). Before the mushrooms become mushy, add the white wine and cook until there is just a little sauce left. Add the cream (if using), parsley, salt and pepper and heat for another couple of minutes. Add the parmesan cheese before serving.
This recipe features on p.345 of Sarah's Garden Cookbook.