how to make your own calendula cream
Written by:

Sarah Raven

Last updated: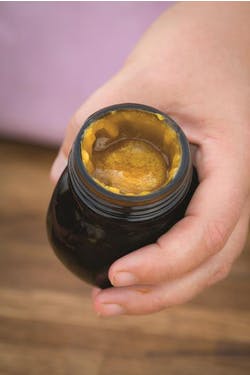 This calendula cream recipe is wonderfully soothing and healing, perfect for bruises, burns, irritations and open wounds. It works by helping the small capillaries to grow around the wound, enabling it to heal faster, and is therefore fantastic for sunburn, and can relieve itching and irritation due it's anti-inflammatory properties.
Keep a jar of this in your first aid kit or medicine cabinet, and simply apply to the affected area.
to make 50g (small pot) of lotion
Pick the flowers (in the early daytime, after the morning dew has dried – you want the flowers to be as dry as possible) aim for 25g of flowers (approximately 25 flowers) to make just over 50g of cream.
Chop the flowers up roughly.
Place 35g emulsifying ointment in a ceramic bowl over a pan of boiling water, and heat until it is liquid.
Add 20g glycerine and 20ml water to the melted emulsifying ointment and stir.
Add the chopped flowers to the bowl, and stir.
Cover and simmer very gently for up to 3 hours (check occasionally that the flowers do not turn to crisp!) - in which time the cream takes up the orange colour of the flowers.
Strain the mixture through a jelly bag into a sterilised, dark coloured glass jar (the dark glass improves the shelf life of the cream).
Put lids loosely on the jars to allow the cream to cool down. Label and date clearly.
useful kit...