hot cross buns recipe
Written by:

Sarah Raven

Last updated: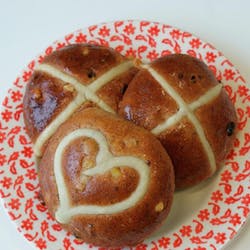 These buns are best eaten fresh out of the oven with butter; if not, they are better toasted. The mixture of flours (half wholemeal, half strong plain flour) gives good flavour and texture. The single raising works fine and cuts down the making time.
makes 12
25g fresh yeast, or 1 tablespoon dried yeast and 1 teaspoon caster sugar
300ml warm milk and water, mixed half and half
225g strong plain flour, sifted
225g wholemeal flour, sifted
1 teaspoon salt
2 teaspoons mixed spice
2 teaspoons ground cinnamon
1 teaspoon ground nutmeg
50g caster sugar
1 egg
50g melted butter
100g currants
75g chopped mixed peel
finely grated zest of 2 lemons
100g ready-rolled shortcrust pastry
for the glaze:
1 tablespoon water
1 tablespoon caster sugar
1 tablespoon milk
method
If using fresh yeast, stir it into the milk and water mixture and leave for 10 minutes. If using dried yeast, stir the teaspoon of caster sugar into the milk and water mixture, sprinkle over the yeast and leave for 10 minutes.
Put the flours, salt, spices and sugar into a large mixing bowl. Make a crater in the centre and add the yeast liquid, egg, melted butter, currants, mixed peel and lemon zest. Mix well to form a soft dough, adding a little more milk if necessary.
Place the dough on a floured surface and with floured hands knead for 8-10minutes, until the dough is smooth and elastic.
Divide the dough into 12 equal pieces and shape into buns. Place on lightly oiled baking sheets, then cover and leave in a warm place until doubled in size (about 1 hour).
Preheat the oven to 200°C/gas mark 6.
Spread out the shortcrust pastry and cut strips about 1cm wide. Make a pastry cross on each bun, glueing it down with a little water or milk.
Bake the buns for 15-20 minutes, until golden. Transfer to a wire rack to cool.
Melt the glaze ingredients over a high heat until just boiling, then brush this over the hot buns to make them shiny. Serve warm with butter.
This recipes features on p.90 of Sarah's Food for Friends and Family cookbook.