green thai autumn vegetable curry recipe
Written by:

Sarah Raven

Last updated: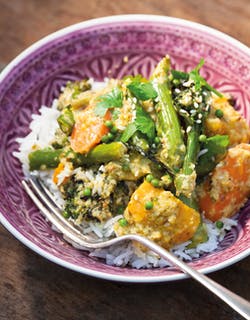 The flavour of this is fantastic, with the curry paste freshly made and the veg all roasted before it's dressed in its sauce for extra flavour.
serves 4-6
200g Kabocha squash, peeled and cut into medium sized chunks
200g runner beans, stringed and sliced into diagonal chunks
200g French beans, tailed and halved
200g carrots, cut into medium-sized chunks
400ml tinned coconut milk
3 teaspoons dry fried sesame seeds
3 teaspoons brown sugar
1 tablespoons fish sauce
Small bunch fresh coriander, about 30g
Olive oil
for the green curry paste:
3 teaspoons freshly grated ginger
2 teaspoons ground coriander
2 teaspoons caraway seed
½ grated nutmeg
2 good pinches of Maldon sea salt
2 good pinches of ground black pepper
1 pinch of ground cloves
1 stalk of lemon grass, tough leaves removed and finely sliced
2 garlic cloves, peeled
Small bunch of fresh coriander, about 30g
2 small onions, peeled
Juice and zest of 2 limes
4 fresh green chillies, deseeded
2 tablespoons of olive oil
method
Preheat the oven to 200°C.
Place all the vegetables into a baking tray, drizzle over a little olive oil and bake for 10 minutes.
Put all the ingredients for the paste into a food processor and whizz until you have a smooth paste.
Heat a little oil in a large frying pan and pour in the green paste; cook for 3-4 minutes. Turn down the heat, pour in the coconut milk and fish sauce, and sprinkle in the sugar. Cook for a further 6-7 minutes, stirring frequently.
Take the vegetables out of the oven and pour over the sauce. Sprinkle the sesame seeds over.
Serve with noodles or rice, sprinkled with coarsely chopped coriander.
This recipe featured in our 2014 Calendar.