five-hour leg of lamb recipe
Written by:

Sarah Raven

Last updated: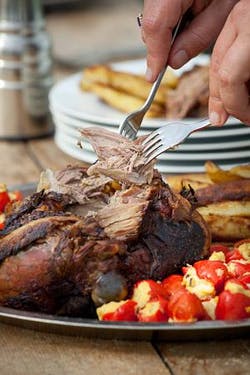 This is my favourite thing to cook for an Easter lunch. You can put it in the oven at breakfast and it will be perfect by lunch.
serves 8
Large leg of lamb or hogget (about 2.2-2.5kg)
for the marinade
1 x 750ml bottle of dry white wine
5 cloves of garlic, finely chopped
2 tablespoons cumin seeds, dry fried and coarsely ground
2 tablespoons coriander seeds, dry fried and coarsely ground
Plenty of salt and black pepper
5 tablespoons of olive oil
for cooking
3 carrots
2 onions
3 leeks
4 cloves of garlic, whole
Put the meat in a black plastic bin liner with the wine, garlic, spices, oil, salt and pepper. Toss it altogether well. Put the whole thing into a bucket and place it somewhere cool for 24-48 hours. Try to remember to turn it quite regularly so the meat is fully coated in the marinade.
5 hours before you want to eat, preheat the oven to 140ºC/gas mark 2. Peel and coarsely chop the veg and put it in the bottom of a large roasting tin. Pour the contents of the black bag onto the veg.
Place it in the oven and roast for 4½ hours. Take out of the oven and rest - covered in tin foil and tea towels - for 30 minutes.
This recipe featured on p.62 of Sarah Raven's Food for Friends and Family