creamy celeriac soup with chestnuts recipe
Written by:

Sarah Raven

Last updated: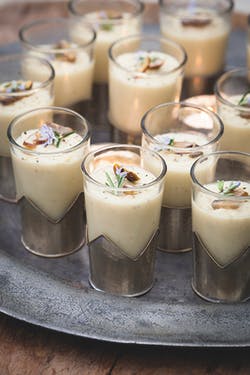 This soup is very rich and creamy, yet it contains no cream, with almond milk used instead. If the celeriac is organic, remove the minimal amount of peel as the nutrients lie just beneath the skin. Top this soup with chestnuts, which are low in fat and calories compared to all other nuts, but still packed with protein and they are filling too.
for 2-3 as a main course, 4 as a starter, 10 as a canapé
2 tablespoons cold-pressed rapeseed oil or 1 teaspoon set coconut oil
1 celeriac (about 1.2kg), diced into 2cm cubes
2 shallots, finely chopped
1 garlic clove, crushed
Sprig of rosemary, leaves finely chopped
700ml good-quality chicken stock
500ml almond milk
Juice of ½ lemon
Sea salt and black pepper
to serve
Finely chopped rosemary or parsley
100g vacuum-packed chestnuts, sliced
Black pepper
Heat the oil in a heavy-based saucepan. Add the celeriac and cook on a medium heat for 5 minutes, stirring constantly. Add the shallots and cook for a further 5 minutes until both have softened but have not coloured. Stir in the garlic and rosemary. Cook for 2 minutes, then add the stock and simmer for 20 minutes. Pour in the almond milk and bring the soup back to a simmer. Blend the soup in a food processor until really smooth.
Pour back into a clean pan and reheat gently. Squeeze in the lemon juice and add plenty of black pepper and some salt if necessary. Sprinkle over the rosemary or parsley, the chestnuts and a grind of black pepper.