cranberry tart with hot toffee sauce
Written by:

Sarah Raven

Last updated: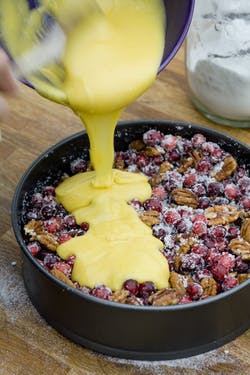 An excellent Christmas pudding for eating at any time when you have lots of people to feed. It has a good balance of sweet and sour.
serves 6
for the cranberry tart
500g cranberries, fresh or frozen
Juice and grated zest of 1 orange
200g caster sugar
150g shelled pecan nuts (chopped)
1-2 eggs, well beaten
60g plain flour, sifted
75g butter, melted
Crème fraîche, to serve
for the toffee sauce
180g dark brown sugar
120g butter
120ml double cream
Preheat the oven to 180°C/gas mark 4. Grease the 20cm-diameter springform cake tin.
Put the cranberries in a non-stick pan with the orange juice and zest, and mix well. Cook them for about 3-4 minutes, until the cranberries pop.
Put the just-cooked cranberries into the prepared cake tin. Sprinkle with half the sugar and the pecans, and mix well.
In a bowl, beat the remaining sugar with the egg until well mixed. Add the flour and melted butter to make a smooth batter. Pour this over the cranberries in the tin and bake for 40-45 minutes.
To make the toffee sauce, heat the sugar, butter and cream together until the sugar has dissolved and the sauce is bubbling. Take off the heat and serve warm. This makes generous quantities of sauce and you may have some left over for ice cream the following day.
Serve the tart with the hot toffee sauce and crème fraîche.
This recipe features on p.416 of Sarah's Garden Cookbook.