courgette balls with summer salsa recipe
Written by:

Sarah Raven

Last updated: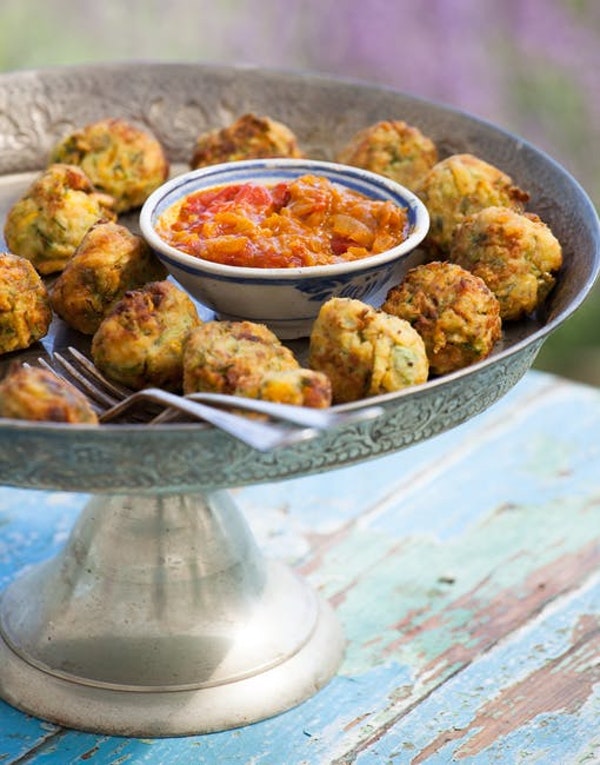 This is ideal as an appetiser or canapés at a party, using the sauce as a dip. It looks good with yellow and green courgettes mixed together as you see the colours as you bite in to the balls.
canapés for 6 (makes about 16 little balls)
For the balls
3 tablespoons very finely chopped onion
30g butter
1 tablespoon olive oil
500g courgettes (about 3 medium courgettes)
½ teaspoon salt
1 hot green chilli, finely chopped
2 teaspoons peeled and freshly grated ginger
2 tablespoons chopped coriander or flat-leaf parsley
45g gram (chickpea) flour, plus extra for rolling balls before frying
Little oil, for frying
For the sauce
2 medium onions, finely chopped
2 tablespoons olive or sunflower oil
¼ teaspoon turmeric
1 teaspoon ground cumin
Cayenne pepper, to taste
2 teaspoons ground coriander
250g cherry tomatoes, peeled
½ teaspoon garam masala
½ teaspoon cumin seeds, roasted and ground
Salt
Preheat the oven to 170°C/gas mark 3
Gently fry the onion for the balls in the butter and olive oil until soft but not browned (about 5 minutes). Grate the courgettes and put them in a colander with the salt. Leave for 30 minutes, then squeeze dry with your hands, saving the liquid for the sauce. Mix the courgettes with the onion, chilli, ginger and coriander. Sprinkle in the flour and mix again.
Next make the sauce. Fry the onions in the oil for 7–8 minutes, until brown. Add the turmeric, cumin, cayenne and coriander. Stir and add the tomatoes. Pour in 250ml of the courgette juice (made up with water if not enough). Bring to the boil and simmer for 15 minutes. Add the remaining ingredients, seasoning to taste with salt.
Roll the courgette mixture into 16 little balls and then roll each one in a little more gram flour to help them hold together. Place them in a gratin dish in an oven preheated to 170°C/gas mark 3 and cook for 10 minutes. Serve with the sauce in a small bowl for dipping.
This recipe featured in the Sarah Raven Calendar 2015.