coffee, meringue and ice cream cake
Written by:

Sarah Raven

Last updated: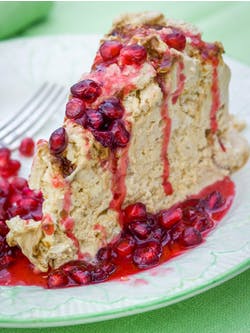 I was first given this incredible pudding by a friend, Tam Lawson, 20 years ago and I've made it for pretty much every Christmas since. I've never across anyone (apart from those who are non-dairy) who has not devoured it!
serves 8-10
2 tbsp of strong instant coffee
1 tbsp boiling water
750ml double cream
1 tbsp caster sugar
1 tbsp coffee liqueur
3 pieces of thinly sliced stem ginger
1 tbsp ginger syrup
Frozen raspberries or rosehip syrup to serve
For the meringues:
6 egg whites
180g granulated sugar
180g caster sugar
sunflower oil
To make the meringues, whisk 6 egg whites till they're very stiff and dry.
Slowly add (bit by bit) 180g granulated sugar, whizz that in until the egg whites regain their former stiffness. Then fold in 180g caster sugar with a large metal spoon.
In serving spoon sized dollops, spoon on to greaseproof paper, rubbed with a trace of sunflower oil.
Preheat the oven to 110°C (gas mark 1/4 or lowest setting). Bake for about 3 hours until crisp.
Once cooked you can just turn off the oven and leave overnight.
Mix 2 tbsp instant coffee in 1 tbsp boiling water and leave to chill. Whip 750ml double cream to soft peak stage and add 1 tbsp caster sugar and 1 tbsp Kahlua (coffee liqueur) and half the coffee liquid.
Break the meringue into pieces. Fold the meringue and cream together, and add 3 pieces of stem ginger, thinly sliced with 1 tbsp of ginger syrup.
Spoon into a deep (8cm x 22cm) straight-sided round cake tin, lined with non-stick paper.
Marble the top with the remaining coffee liquid. And freeze for at least 24 hours.
Serve straight from the freezer with plenty of pomegranate seeds or raspberries over the top.
This recipe features Sarah Raven's Garden Cookbook and Complete Christmas.