chocolate, beetroot and orange cake recipe
Written by:

Sarah Raven

Last updated: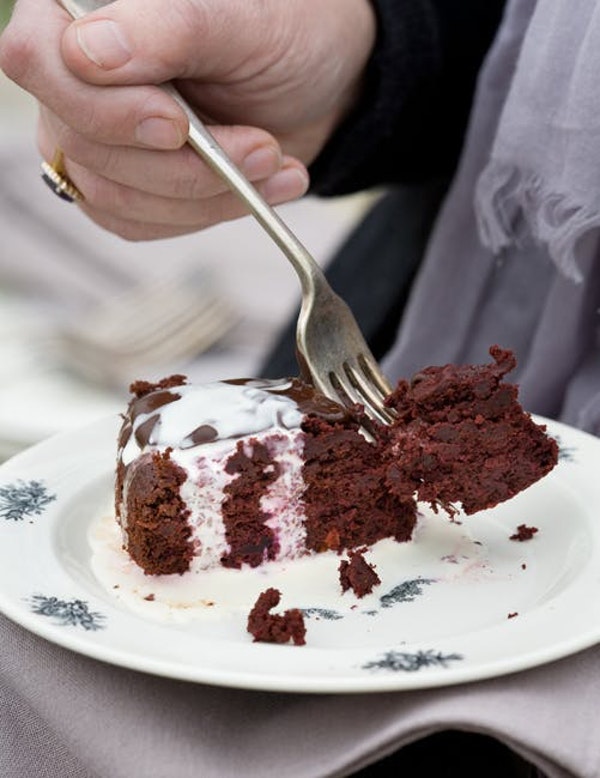 This cake tastes like a soft, rich, Terry's chocolate orange made from dark chocolate. The beetroot adds extra moisture and gives it an incredible colour. It is also easy to make.
The recipe comes from Jo Clark's mother, Rachael Dasent. Jo has been my right- and left-hand woman throughout the recipe testing and writing of this book.
for 6-8
1 medium beetroot (about 200g)
juice and finely grated zest of 1 orange
100g ground almonds
3 eggs, separated
125g caster sugar
1/2 teaspoon baking powder
300g dark chocolate (at least 70% cocoa solids)
cream or vanilla ice cream, to serve
Place the beetroot in a large pan of boiling water and cook for 30-40 minutes, until soft. Peel and coarsely chop.
Heat the oven to 180c/gas mark 4. Lightly oil a 20cm loose-bottomed cake tin and line with greaseproof paper.
Melt 200g of the chocolate in a bain-marie.
Put the cooked beetroot into a food processor and whizz briefly, keeping some texture to it. Transfer to a mixing bowl and stir in the orange juice and zest. Now add the almonds, egg yolks, sugar, baking powder and melted chocolate. Mix thoroughly.
In another bowl, beat the egg whites until stiff but not dry, and fold them into the chocolate mixture.
Spoon into the lined tin and place on a baking sheet. Bake for 35-40 minutes, then allow to cool in the tin.
Melt the remaining chocolate in a bain-marie. To serve, pour melted chocolate over slices of cake, and top with cream or a dollop of vanilla ice cream.
This recipe appears on p.306 of Sarah's Food for Friends and Family cookbook.
useful kit...