chicken puttanesca with waxy new potatoes recipe
Written by:

Sarah Raven

Last updated: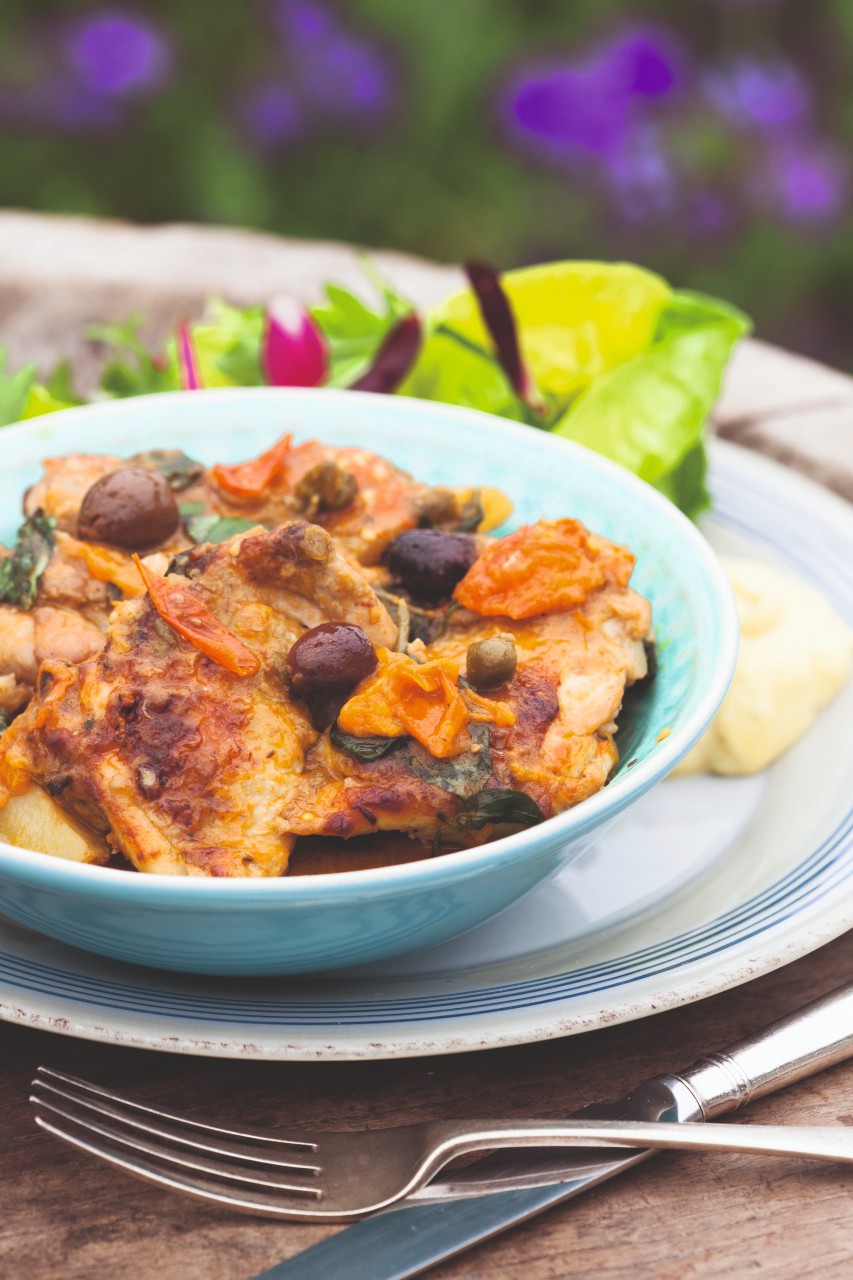 This is a one-pot dish, which needs only a salad to make it a meal.
serves 6
5 tablespoons extra virgin olive oil
20 anchovy fillets (in oil)
4 cloves garlic, peeled and roughly chopped
12 skin-on, boned chicken thighs
600g cherry tomatoes
3 tablespoons good quality, mixed marinated olives (stoned)
2 tablespoons capers
650g waxy potatoes, such as 'Belle de Fontenay', 'Ratte' or 'Pioneer', quartered lengthways
200ml white wine
bunch of fresh basil (about 30g), de-stemmed
salt and black pepper
Preheat oven to 180°C/gas mark 4.
Heat 4 tablespoons of oil in a heavy based casserole dish (shallow works best for this). Add the anchovies and garlic and gently fry for 2-3 minutes, until the anchovies have melted, but the garlic has not browned. Add the cherry tomatoes, olives and capers, and turn down the heat to simmer gently.
Meanwhile heat 1 tablespoon of oil in a large frying pan and fry the chicken pieces for 3-4 minutes on each side until golden brown. Put the chicken thighs (discarding the oil), potatoes and white wine into the tomato mixture and stir.
Place lid on casserole and put on the middle shelf of the oven. Cook for 15 minutes, then give the chicken and potatoes a good stir to coat in the puttanesca juice and put back without the lid and cook for a further 20 minutes.
Remove from the oven and allow to cool for a few minutes, before stirring in the basil leaves.
Taste and season with a little salt and pepper.