chicken breast stuffed with garden herbs recipe
Written by:

Sarah Raven

Last updated: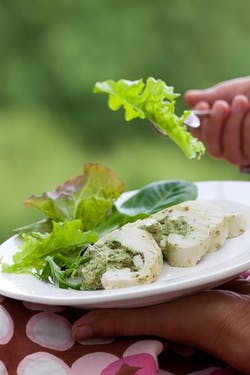 This is one of the simplest and most delicious recipes, given to me by a friend, Kitty Ann. The chicken is good served warm with rice, green beans, sugar snap peas, mange tout and pickled ginger salad. It's also brilliant for a party buffet or picnic; neat and easy to pack.
serves 6
6 skinless chicken breasts
150g mixed garden greens, such as spinach, chard, rocket, watercress, coarsely chopped
30g fresh tarragon, coarsely chopped
2 garlic cloves, finely chopped
350g cream cheese
grated zest of 1 lemon
salt and black pepper
200ml vegetable or chicken stock
method
Preheat the oven to 180°C/Gas mark 4.
Cut the chicken breasts almost but not quite in half, slicing horizontally through their fattest part. Open them out between two sheets of cling film, then bash them gently with a rolling pin. You want to flatten them to a thickness of about 2cm.
Put the greens and three-quarters of the tarragon in a food processor or large bowl, add the garlic, cream cheese, lemon zest, salt and pepper, and whizz briefly – or mix with a wooden spoon.
Spread the mixture evenly over the flattened chicken breasts. Roll them up and pack into a baking tin. Pour in enough stock to come about a quarter of the way up the chicken breasts. Put into the middle of the oven and bake for 30 minutes, or until the chicken is cooked all the way through.
To eat hot, transfer the chicken to a plate and keep warm. Add the remaining tarragon and stock to the juices in the baking tin and simmer gently for 5 minutes. Pour the sauce over the chicken breasts. Allow to rest for 5 minutes, then serve with rice, green beans and crunchy salad.
For a picnic, allow the chicken to cool completely, then put in the fridge for a few hours before packing in plastic containers. (There is no need to make a sauce for the picnic version of the recipe.)
This recipe appears on p.198 of Sarah's Food for Friends and Family cookbook.