chicken and leek pie
Written by:

Sarah Raven

Last updated: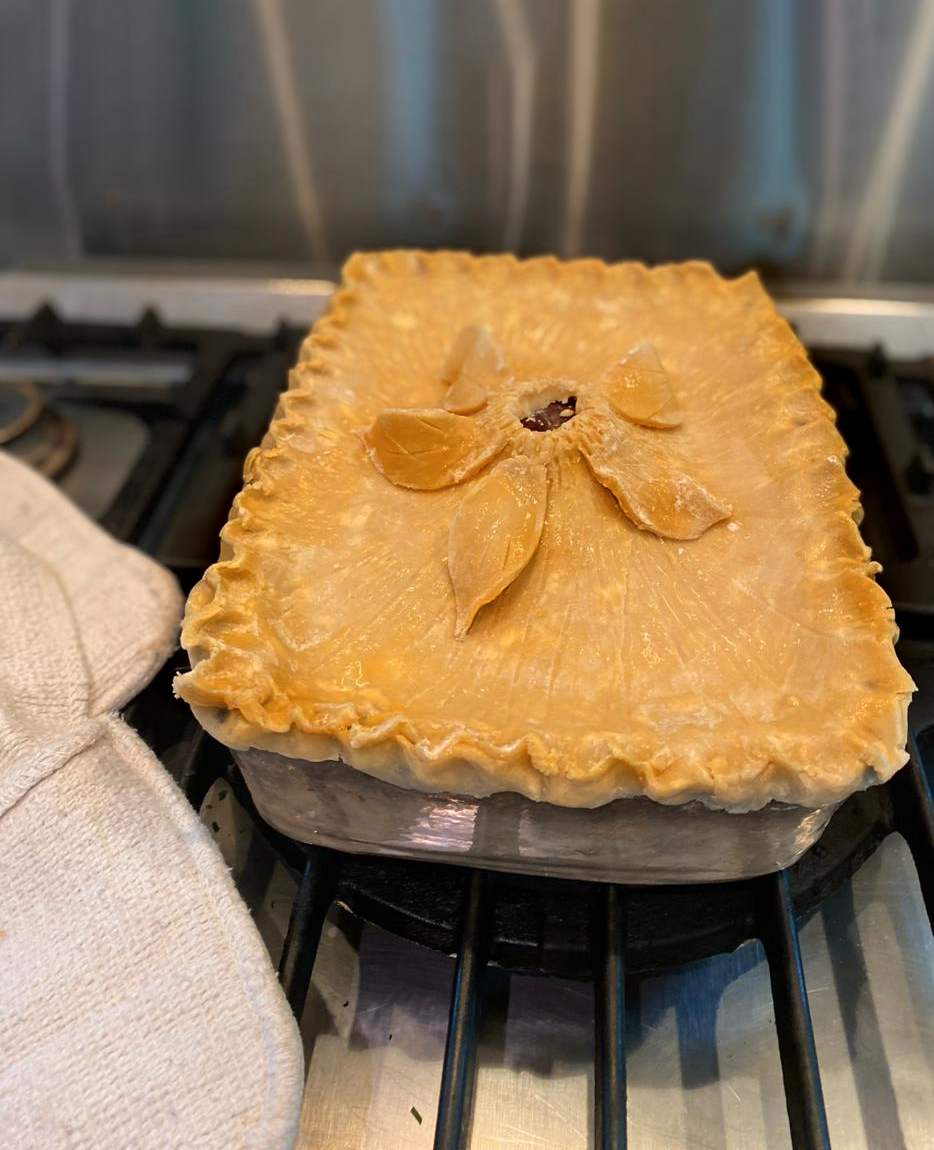 The pastry for this is wonderfully flaky and light, almost like a digestive biscuit. You can put it over the top of anything, but it's particularly good with chicken, tarragon and leeks. In cold weather bung in chestnuts too. I make a similar pie with rabbit when it's in season in summer and autumn (see page 284), as well as a mixed game pie with two rabbits, two pheasants (poached for 45 minutes in 750ml apple juice with 3 star anise, then meat removed) and 500g pigeon breasts.
Note that the pastry is used only on top of the pie; it's not used to line the dish.
serves 8
4 chicken breasts, skinned and cut into pieces
4 chicken thighs, skinned, boned and cut into pieces
100g shallots, peeled but left whole
100g onions, finely chopped
2 bay leaves
4 leeks, cleaned and finely sliced
Salt and black pepper
60g butter
60g plain flour
200ml double cream or milk
Grated nutmeg
100ml sherry
200g cooked peeled chestnuts, vacuum-packed are fine (optional)
Large bunch of flat-leaf parsley, chopped
Small bunch of tarragon, chopped
egg and milk wash (1 egg beaten with 2 tablespoons milk)
For the pastry:
200g plain flour
140g butter
65g lard
1 teaspoon salt
method
First make the pastry. Sift the flour into a bowl, then rub in the butter and lard until the mixture resembles breadcrumbs. Don't overwork.
Alternatively, pulse in a food processor. Add the salt, then a little ice-cold water and pulse or mix with a knife to form a dough.
Gather the pastry into a ball, cover with cling film and chill for 30 minutes.
Put the chicken pieces, shallots, onions, bay leaves, leeks and seasoning in a saucepan or casserole.
Cover with water and a lid, place over a medium heat or in the oven (preheated to 170°C/gas mark 3) and cook until the meat is tender (15–20 minutes).
Strain off the stock, making it up to 500ml with water if necessary.
Melt the butter in a saucepan, stir in the flour and cook for a minute or so. Gradually add the stock, stirring to make a smooth, thickish sauce. Add the cream or milk.
Season with salt and pepper and add plenty of grated nutmeg, the sherry, chestnuts (if using) and chopped herbs. Cook for 5 minutes, stirring.
Put the chicken mixture into a 30 x 22cm rectangular pie dish and pour in the sauce. Stir to combine.
Preheat the oven to 180°C/gas mark 4.
Roll out the pastry to cover the pie. Decorate with shapes cut out of the leftover pieces and cut a steam hole in the middle.
Brush a little egg and milk wash all over the pastry and bake until brown (about 20 minutes)