celeriac salad with apple, pine nuts and prosciutto recipe
Written by:

Sarah Raven

Last updated: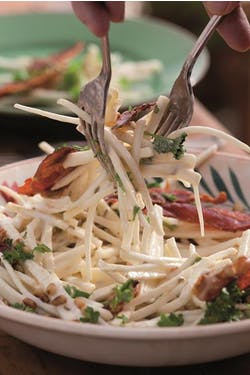 Here is one of the best winter salads, celeriac remoulade, taken one step further. Ideal as a starter for a winter dinner or as the main dish for lunch, it's also fantastic topped with a slice of two of smoked eel.
for 6 as a starter or side salad, 4 as a main course
juice of 1/2 lemon (for acidulating water)
1 large celeriac (600-700g)
2 crunchy eating apples
150g prosciutto (about 16 thin slices)
75g pine nuts
large bunch of flat-leaf parsley, coarsely chopped
For the mayonnaise
2 egg yolks
2-3 tablespoons white wine vinegar, or to taste
1 tablespoon Dijon mustard
1 garlic clove, crushed (optional)
good pinch of salt and black pepper
200ml good sunflower oil
75ml light olive oil plus 25ml extra virgin olive oil (or just 100ml light olive oil)
2 tablespoons fennel seed
1 tablespoon chopped lemon thyme
100ml Greek yoghurt
lemon juice, to taste
Preheat the oven to 200c/gas mark 6. Fill a mixing bowl with water and add a good squeeze of lemon juice.
Peel the celeriac and slice it as thinly as you can into big round discs. Slice these discs into julienne (matchsticks) as fine as you can make them. You can use a food processor for this, but you won't get the fineness and mix of shapes and sizes that you get when doing it by hand. The smaller and finer, the better - it's worth it. As you cut them, put the matchsticks into the bowl of acidulating water to stop them turning brown.
Peel, core and slice the apples into fine matchsticks and put them in the water with the celeriac.
Oil a couple of baking sheets, or line them with baking parchment or a silicone mat. Arrange the prosciutto on them in a single layer and roast in the oven until just beginning to brown and turn crunchy (about 5 minutes). Dry fry or roast the pine nuts until they begin to brown. Set aside.
Now make the mayonnaise. Put the egg yolks, vinegar, mustard, garlic (if using), salt and pepper into a liquidiser, food processor or mixing bowl. Whizz or whisk until the mixture becomes frothy. Add the oils slowly, one by one, in a steady stream, whizzing or whisking constantly until it thickens. Add the fennel seed and lemon thyme, then mix the mayonnaise with the yoghurt to lighten it a little. Add lemon juice to taste.
Drain the celeriac and apple matchsticks, pat them dry carefully with a tea towel and put a quarter into a serving bowl. Stir in just enough of the mayonnaise mixture to coat them. Then do another quarter, stirring with the mayonnaise, and continue until the whole lot is evenly and lightly dressed. (Julienned celeriac sticks together so densely that if you try to mix a large amount with mayonnaise, you'll get undress chunks in the middle. It's best to do it bit by bit.)
Stir in the parsley and pine nuts and lay the prosciutto over the top. This also works well individually plate, with two slices of ham or a little chunk of smoked eel over each serving (for a starter), or with three ham slices (for a main course).
It's a dense, filling salad, so don't serve huge portions.
This recipe appear on p.369 of Sarah Raven's Food for Friends and Family Cookbook.