blackberry and apple gin recipe
Written by:

Sarah Raven

Last updated: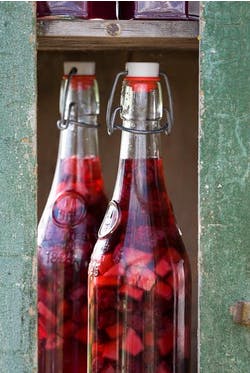 This is a delicious blackberry and apple recipe that will make bottles of gin – perfect for parties. The apple can be swapped for pear in this recipe, and the gin for vodka.
makes about 3¼ cups (800ml)
10½ oz (300g) granulated sugar
1 apple, peeled, cored and finely chopped
8¾ oz (250g) blackberries
3 cups (750ml) gin
method
Using a funnel, pour the sugar into a large bottle that has been sterilised (sterilise it in a very hot dishwasher, or boil it in a pan of water for 10 minutes). Add the fruit and then the gin. Seal tightly, then label with the date and store in a dark place. Turn the bottle as often as you can to dissolve the sugar gradually.
After three months, strain off the alcohol and pour into dry, warm bottles that have been sterilised as before. Seal and label with date. The drink will keep well.
You may also enjoy our Sloe Gin or Apple Juice recipes.