barbecued corn with chilli and garlic butter recipe
Written by:

Sarah Raven

Last updated: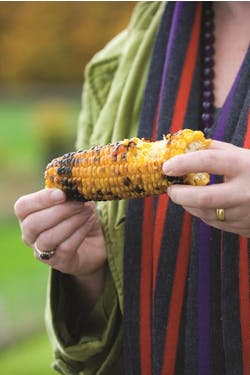 Pick or buy lots of sweetcorn when it's in season, cook it and shove it in the freezer. The cobs lose their sugar quickly on storing, so you want to cook and freeze them as soon as you can. Then cook gently on a barbecue to make them treacly and sweet.
for 8
8 corn cobs, leaves and silks removed (keep the leaves for serving the cobs after cooking)
100g softened butter
1 red chilli, deseeded and finely chopped
2 garlic cloves, very finely chopped
2 tablespoons very finely chopped fresh thyme
Using a fork, mix the butter with the chilli, garlic and thyme in a bowl. Put the mixture in the fridge to harden a little, then roll it into a fat sausage, wrap in cling film and put it back in the fridge. You can then cut discs of flavoured butter, one for each cob or person.
Cook the corn cobs in boiling salted water for 5 minutes. Plunge into cold water, then pat dry with kitchen paper. (If you're keeping the cobs for later, freeze them at this stage.)
Put the cobs directly on a slow-burning barbecue, turning occasionally, for about 15 minutes.
Cut the cobs into chunks to make them easier to eat, place in a leaf for serving and give everyone a disc of butter to melt over them.
This recipe appears in Sarah Raven's Food for Friends and Family cookbook.