Banbury cakes recipe
Written by:

Sarah Raven

Last updated: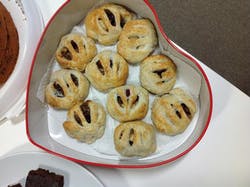 Containing slightly less sweet mincemeat, these Banbury cakes are brilliantly versatile. They are lovely as a pudding with double cream, or for tea, and absolutely delicious with a lump of crumbly Stilton or Lancashire cheese any time before or after Christmas.
makes 15-20 cakes
500g puff pastry, shop-bought, but made with butter
1 quantity Peter's Banbury cake mincemeat (see below)
1 egg white
A little caster sugar
Preheat the oven to 200°C/gas mark 6. Lightly oil (or place a silicon mat on) a baking sheet.
Roll out the pastry really thinly (5mm) and use a 10cm cutter to cut out rounds (you can make much smaller ones for canapes). Put 2 teaspoons of mincemeat mixture in the centre of each round, gather up the pastry to make a shape like a mini Shakespearean purse, pinch firmly together and cut off the excess. Turn the little cakes upside down and flatten slightly with the palm of your hand. Cut 3 quite deep slits in the top of each one.
Mix the egg white with some caster sugar and brush this glaze over the cakes. Put them on the silicone mat and bake for 10 minutes to get a lovely crisp, crystallised finish.
Once they've cooled, freeze them or store in a sealed tin. Kept airtight, they will be fine for up to a month.
Peter's Banbury Cake Mincemeat
A recipe from Peter Weedon, of the Paternoster Chop House, that I included in my Christmas book, this is my favourite of all mincemeats – good and orangey with lots of nutty texture. It's not as sweet as most, so go for the more conventional recipe if you prefer things sweet. If you can't find damsons, use cranberries instead.
makes 1 x 450g jar, or 15-20 Banbury cakes or mince pies
80g hazelnuts
100g damsons or cranberries
50g demerara sugar
50g raisins
75g currants
75g suet (vegetarian or meat)
juice of ½ lemon
1 eating apple, peeled, cored and diced
slug of sloe gin or damson vodka, or whisky or brandy if you can't find these
Mix all the ingredients together in a bowl.
Ladle the mincemeat into a dry, warm, sterilised jar (you can sterilise it in a very hot dishwasher, or boil it in a pan of water for 10 minutes). Cover with a wax disc, seal and label with a date. Alternatively, keep it in a bowl covered with foil somewhere cool (the alcohol content makes it safe to store) until you want to use it.
You can use the mincemeat straight away, but it's even better if left to mature and marinate for 4-6 weeks. Eat within 3 months of opening.
This recipe features on p440 of Sarah's Food for Friends and Family cookbook, and p22 of Sarah's Complete Christmas book.