tricolour pepper caponata recipe
Written by:

Sarah Raven

Last updated: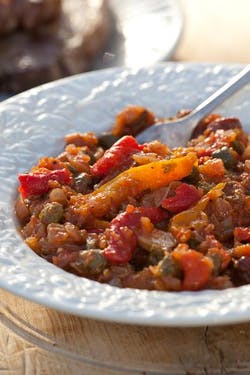 Make several jars of this sweet and sour mixture and store it in the fridge to eat through the autumn. Balsamic vinegar is a preservative, so it can be kept for up to a month. It's lovely with griddled aubergine, prosciutto, cold meats and cheese, and excellent with just toast and salad.
Makes about 750ml
3 peppers (1 red, 1 yellow and 1 orange, about 500g in total)
1 large onion, finely chopped
2 garlic cloves, finely chopped
2-3 tablespoons olive oil
large handful of fresh basil leaves
5 tomatoes, skinned and coarsely chopped (see page 125), or 1 x 400g tin of chopped tomatoes
2 tablespoons capers (salted capers have the best flavour, so find these if you can: drain and rinse them under cold running water; then dry on kitchen paper)
3 tablespoons balsamic vinegar
1 tablespoon soft dark brown sugar
1 teaspoon cocoa powder
handful of black olives, stoned and quartered
salt and black pepper
Preheat the oven to 180c/gas mark 4.
Put the whole peppers in a roasting tin and roast until they begin to char (about 25 minutes). Remove and place in a plastic bag to steam for 5 minutes so that the skin can then be peeled off.
In an ovenproof pan, gently fry the onion and garlic in the olive oil until transparent (about 5 minutes).
Slice or tear the peeled peppers into thin strips and add them to the pan. Tear up the basil leave and add these to the pan with all the remaining ingredients. Cover and cook on the hob over a moderate heat for 15-20 minutes. Check to make sure that the mixture is not catching on the bottom, adding a little water if necessary.
When the caponata has finished cooking, the mixture should look dark and rich, with most of the excess liquid absorbed.
Pour into dry, warm, sterilised jars (you can sterilise them in a very hot dishwasher, or boil them in a pan of water for 10 minutes), then seal and label with a date. Keep in the fridge and eat within a month.
This recipe features on p264 of Sarah's Food for Family and Friends Cookbook.