sussex pond pudding recipe
Written by:

Sarah Raven

Last updated: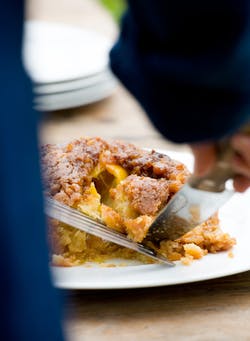 This is very British and traditional, and absolutely delicious. The pudding tends to collapse as you turn it out, but it tastes fantastic.
serves 8-10
225g self-raising flour
115g suet (vegetarian or meat)
Zest of 1 lemon
125ml milk and water, mixed half and half
150g butter, cold
150g soft brown sugar
2 large unwaxed lemons, pricked in several places with a fork
Double cream, to serve
Combine the flour, suet and zest in a large mixing bowl and add the liquid to make a soft dough. Roll it out into a large circle, keeping back one-third of the dough for the lid. Use the dough to line a buttered 1.4 litre pudding basin, letting any extra hang over the edge.
Cube the butter, put half into the pudding basin and cover with half the sugar. Sit the two whole lemons on the sugar and layer the remaining butter and sugar on top of the lemons.
Place the circle of dough you have reserved for the lid on top of the pudding and seal it well by pinching the edge of the lid with the dough lining the basin. Trim away any excess.
Make a pleat down the centre of a double layer of greaseproof paper, to allow for expansion during cooking, and cover the basin with the paper, securing it with string.
Sit the pudding basin in a large saucepan with enough boiling water to reach one-third of the way up the sides, and cover. Steam for 3 ½ hours, topping up the saucepan with boiling water when needed. Serve really hot with cream.
This recipe featured in the Sarah Raven 2014 Calendar.