andalusian soup salad recipe
Written by:

Sarah Raven

Last updated: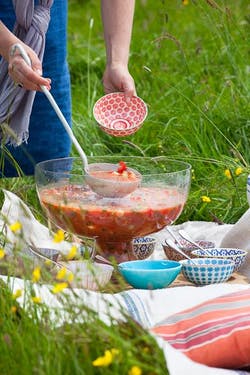 A fantastic, healthy meal in itself, this soup has the crunch of cucumber and intense flavour of summer tomatoes. The key thing is not to chop the veg too finely: the chunks should be about 1cm across. It's also essential to start making this soup at least a couple of hours before you want to eat. It's best eaten really cold, so needs an hour or two in the fridge.
I like to eat this with cornbread or fluffy white bread and unsalted butter (the picture shows a double quantity of the soup).
for 6 as a starter, 4 for lunch
3 large, ripe vine tomatoes, peeled (to peel: cover with boiling water, leave for 2-3mins, strain and cool)
2 hard-boiled eggs
2 teaspoons Dijon mustard
4 tablespoons extra virgin olive oil, plus a little extra for serving
4 tablespoons red wine vinegar
2 garlic cloves, crushed
1 slice of stale, white bread, crusts removed, torn up
1/2 large cucumber, peeled (if you want), deseeded and chopped
1 red pepper, deseeded and chopped
4 spring onions, thinly sliced
1 red chilli, deseeded and thinly sliced (optional)
1 litre tomato juice
salt and black pepper
a little fresh oregano, coarsely chopped, to serve
Coarsely chop the tomatoes, and chuck away the hard woody cores.
Shell the hard-boiled eggs and separate the whites from the yolks. Coarsely chop the whites and put to one side.
In a large bowl, mix the mustard, olive oil, vinegar, garlic, torn bread and egg yolks to make a paste. Add the tomatoes and all the vegetables, then the tomato juice. Stir it all together. Taste, and season with plenty of salt and pepper. Add the chopped egg whites just before putting the soup in the fridge to chill thoroughly.
To serve, lade into bowls and top with a little oregano and a swirl of extra virgin olive oil, or better still, a Basil oil ice cube.
This recipe appears on p126 of Sarah Raven's Food for Friends and Family.